Message has successfully been sent.
Item has been reported. Our moderators will review it ASAP.
This item has been sold.
Sorry this item has been sold and is no longer available. Don't worry, we have plenty other used airsoft items on the marketplace to chose from!
£40.00

+ £10.00pp
Double Eagle M56AL Tri Shotgun
Double Eagle M56AL Tri Shot Shotgun Spring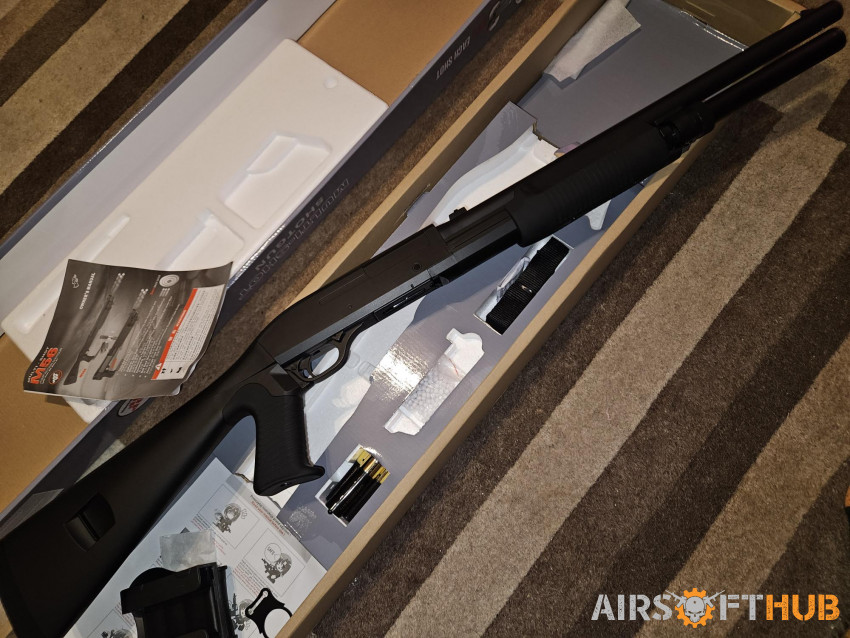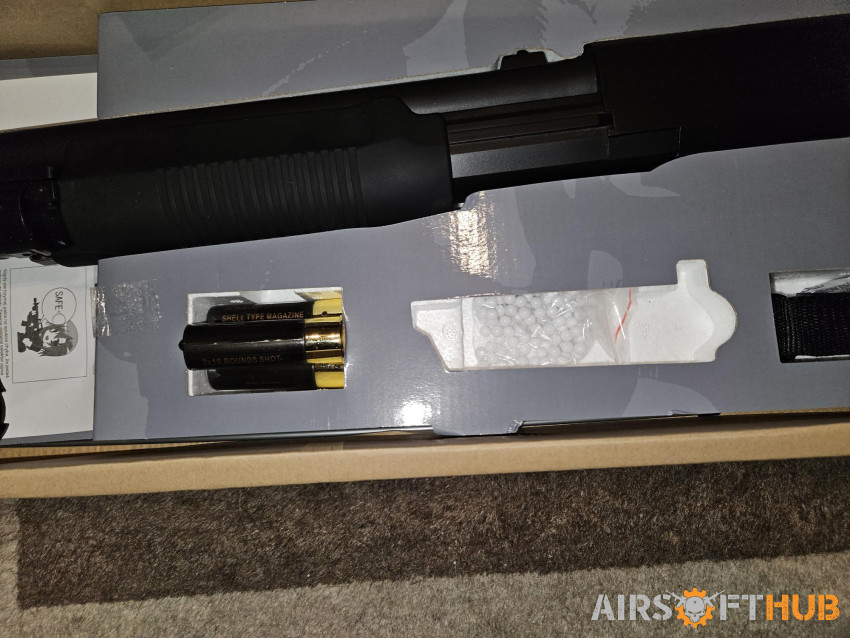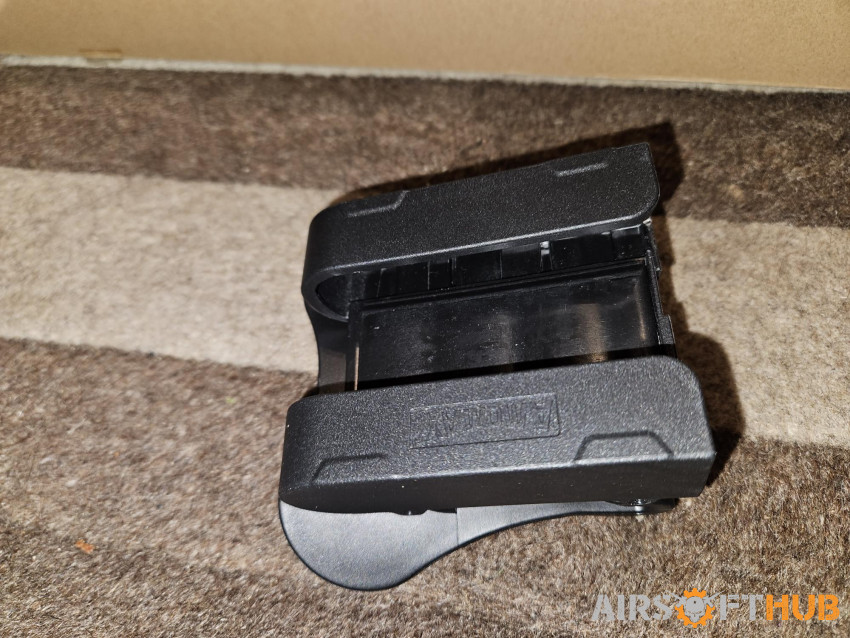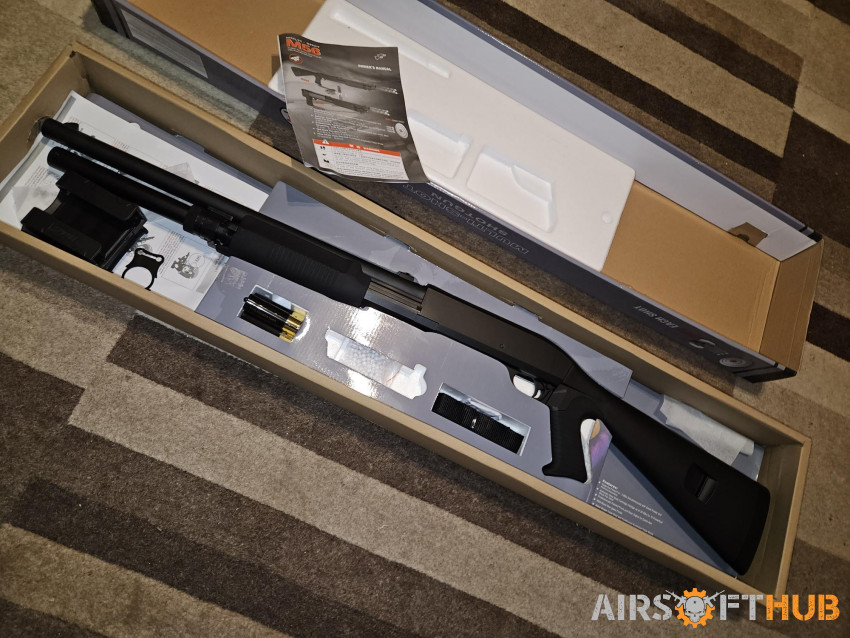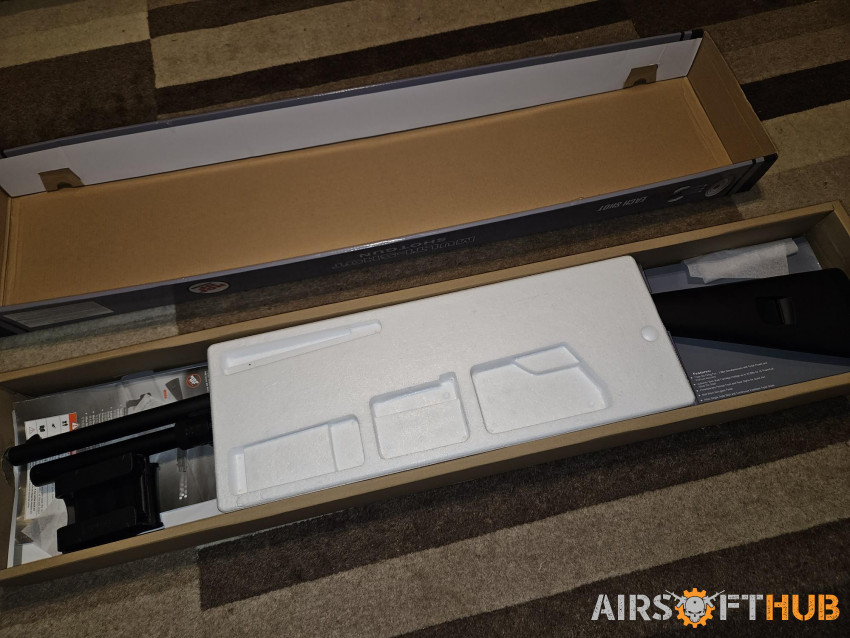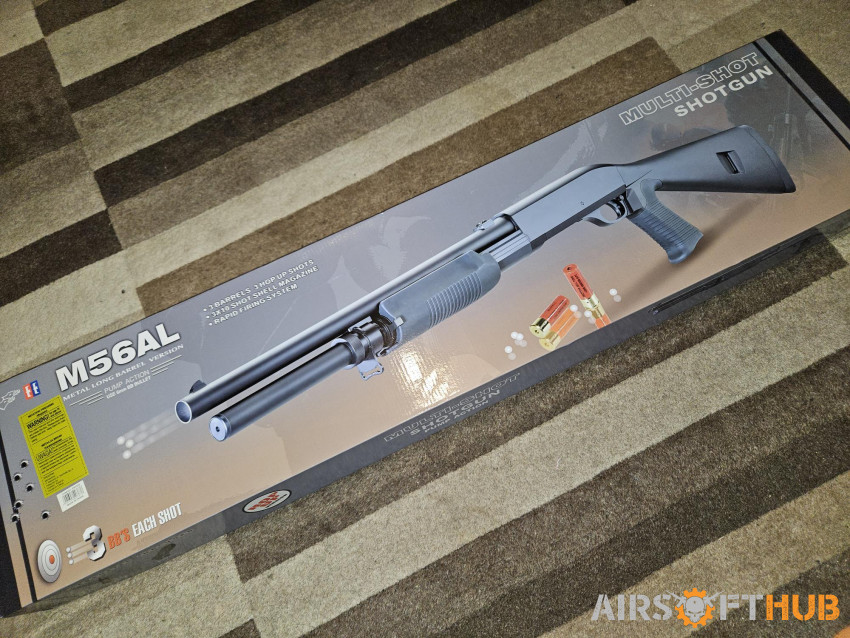 ---
Item Description
NEVER Skirmished. Only be fired a couple of time to check that it works. Comes with shell holder/dispenser (see photos)

This pump-action spring powered Airsoft replica shotgun features the tri-burst system we all know and love to create anarchy in tight CQB spaces. This means with each trigger pull the shotgun will send a cluster of 3 BBs downrange, allowing you some leeway in aiming for a faster initial shot upon entry to the room. The M56AL is fed by shotgun shells inside the breech which hold 30rnds each, and provide three BBs to the muzzle each time you pump and fire the shotgun. The shells are very easy to load and the replica comes included with two to get you started. Simply load the BBs in the top of the shell using the included speedloader or by hand, and then insert the loaded shell inside the breech, opening the door by pressing the lever next to it.

The shotgun has front and rear sling points to make it easier to carry around, especially as a backup to a primary rifle/SMG, and is just the thing for when your main rifle goes down, or you just fancy a change of pace. The external construction is very nice indeed with minimal rattle/wobble, high density polymers used and appropriate strengthening internally. The pump and pistol grip are finished with a rubberised layer which promotes grip even when wearing gloves or when it is cold, but also feels amazing to the touch and makes this shotgun very satisfying to use.

This is the perfect purchase for those looking for a cost effective backup, or a complete change of pace with a new weapon platform; whether you're playing indoors or outdoors, you'll find an effective use for the Double Eagle M56AL Tri Shot Shotgun, even if it's to imagine yourself in the parking lot scene from the movie Heat.

Features
Minimal rattle
3x 30rnd Shotgun shell included
Front & rear sling points
Rubberised pump & grip
Strong polymer construction
Painted ironsights
Tri-barrelled shotgun - 3 BBs per trigger pull
Pump action design
Mock magazine tube
Rubberised butt
Trigger lock safety
Double-pump safety
Perfect CQB weapon
Package Includes
Double Eagle M56AL Tri Shot Shotgun
3x Shotgun Shell
User Manual
Category: Shotguns
Location: Hertfordshire CC
Condition: New
FPS: 230*
* All FPS figures are approximate as temperature, gas, manufacturing changes can all affect the FPS.