Message has successfully been sent.
Item has been reported. Our moderators will review it ASAP.
This item has been sold.
Sorry this item has been sold and is no longer available. Don't worry, we have plenty other used airsoft items on the marketplace to chose from!
£80.00

+ £15.00pp
JG AUG A2 Upgraded
Upgraded AUG with accesories and parts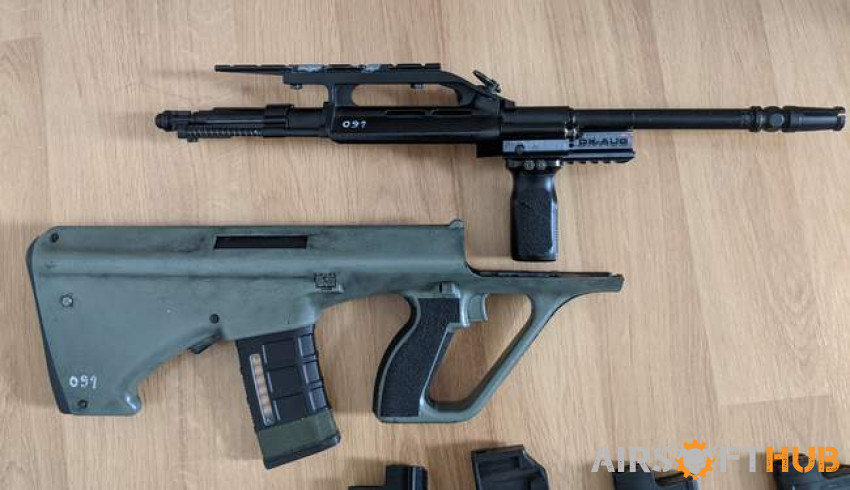 ---
Item Description
Hello,

For sale is a JG AUG A2 that has had upgrades for performance and comes with multiple accessories and parts.


£80 for AUG, one magazine and accessories
£85 for AUG, one magazine, 11.1V Li-Po and accessories
£85 for AUG, three magazines and accessories
£95 for AUG, three magazines, 11.1V Li-Po and accessories


£15 Postage via Parcelforce 48 or free collection from E17 London


The AEG shoots at around 350 FPS on 0.2g BBs but I recommend using 0.25g or 0.28g as you can get even more range out of the gun if you adjust the hop-up.

The gun shoots rather well in ONLY three-round bursts for the first pull and full auto at approximately 20 Rounds a second with the iPower 11.1 Volt Li-Po. The LiPo battery is in great condition and hasn't been skirmished with.


The gearbox has been shimmed, re-lubricated and aligned to the air nozzle recently so the gearbox is very efficient and well-maintained. The trigger mech has been replaced with an SHS one for reliability.

The gearbox has been wired with an AceTech aceMOS MOSFET and uses deans connectors for power efficiency.


The gun is rather accurate with a cleaned and polished 509mm barrel and a Maple Leaf Yellow 60 degree bucking in the radial hop-up.


The Battleaxe Magpul style 90 round mid-cap magazines feed great in the gun and keeps up with the high rate of fire.

Also included is a 3D printed M4 mag adaptor that works with M4 mags with extended feed lips and a speed loading adaptor for the Valken 1000 round speed loader


The externals are alright, with some cuts on the top rail to mount some optics I used previously. This doesn't affect performance and you can still use most of the rail to mount whatever 20mm Picatinny accessories you want. I've lost the QD barrel pin so you'll need to use a small screwdriver to remove it and the bolt handle does not lock back, but it does not affect performance and you can still change the hop-up easily.


There's a 3D printed front rail for mounting foregrips (vertical foregrip included) and a flashlight. You can remove it if you wish.
The flash hider is removable with a 14mm CCW thread underneath. The gun has a polymer body and a metal receiver weighing a total of 3.5 kg



I will be happy to answer any queries you have so please send me a message.
Thank you for your interest and I hope we can do business together.
Category: Assault Rifles
Location: Redbridge and Waltham Forest
Condition: Used
FPS: 350*
* All FPS figures are approximate as temperature, gas, manufacturing changes can all affect the FPS.