Message has successfully been sent.
Item has been reported. Our moderators will review it ASAP.
This item has been sold.
Sorry this item has been sold and is no longer available. Don't worry, we have plenty other used airsoft items on the marketplace to chose from!
£115.00

+ £10.00pp
Frankenstein AK74 with Red Dot
A battered but functional workhorse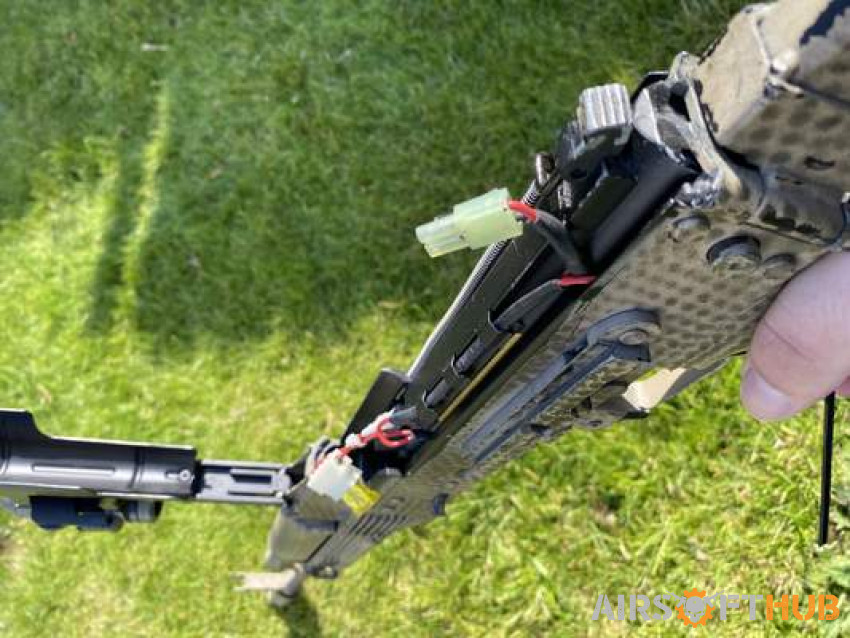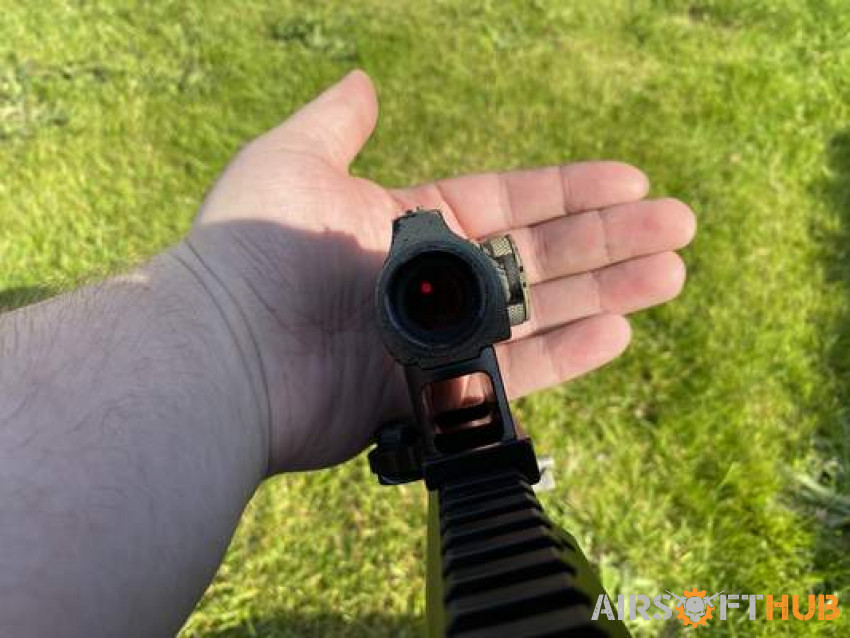 ---
Item Description
Comes with the full metal rifle, 1x mid cap waffle mag and a standard clone T1 red dot optic with adjustable intensity. No battery, bbs, etc.

Purchased this about a year or more ago secondhand from a seller who'd skirmished with it a few times and it was in very rough condition. And it still is for the most part, I've tightened it up a bit, replaced its broken fire selector, oiled it up and reseated the inner barrel with a hopup rubber I had laying around but its never been in my interest to fix it completely because there's just something about a battered and rugged running AK that just seems right.

It functions fine, shoots about as straight as an entry level CYMA AK does and feeds well. I suspect its around 300FPS but I don't have a Chrono to test that.

Original seller told me it was a CYMA so I'm going to guess its a CYMA CM.040 due to the metal body and plastic furniture (handguard and grip) but I can't say for sure. Unfortunately just as I got everything 'right' with the gun the pistol grip started coming off. There's an issue with the threading in the motor cage being stripped so the screw doesn't seat properly so for now its zip-tied in place.

I also have the original dust cover and rear iron sights (but dont have the rear sight metal spring tab thingy) that have the same paintjob to match which I can include if desired.

Other known issues: Very slight wobble to the stock. Its not rickety and loose but its definitely not tight like new. The fire selector works (safe, full and semi) but doesn't sit all the way up for safe. Doesn't come loose at all it just leaves an unsightly gap. The screw behind the lower part of the front handguard in the receiver is just some hardware store solution which I love but its obviously not genuine. You can see it on some of the pictures
as it pokes out half a centimetre on the right side. The previous seller also did some weird improvised hop-up spacer/block with what looks like a rubber-rimmed wheel of some mechano or lego or something. Bizarre but it did the job perfectly and gave me a chuckle so I ain't touching it.

Could make for an ideal project for someone that wants to dick about with an AK platform rifle but doesn't want to risk damaging something new. Or maybe just a back up to give to your buddy to convince him to buy his own stuff and stop mooching off you.

Only looking to sell because I'm running out of space to store all my dumb toys and trinkets.

Open to offers and trades (trades must be in person).

I have some basic videos of it running that I can send upon request.
Category: Assault Rifles
Location: Barnsley, Doncaster and Rotherham
Condition: Used
FPS: 280*
* All FPS figures are approximate as temperature, gas, manufacturing changes can all affect the FPS.