Message has successfully been sent.
Item has been reported. Our moderators will review it ASAP.
£275.00

+ £0.00pp
Specna Arms Edge 2.0 E-12
**Specna Arms Edge 2.0 E-12 Upgraded**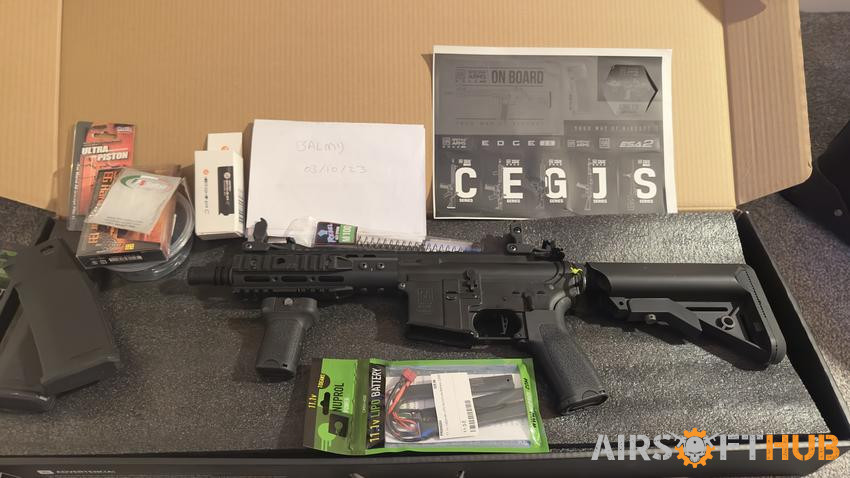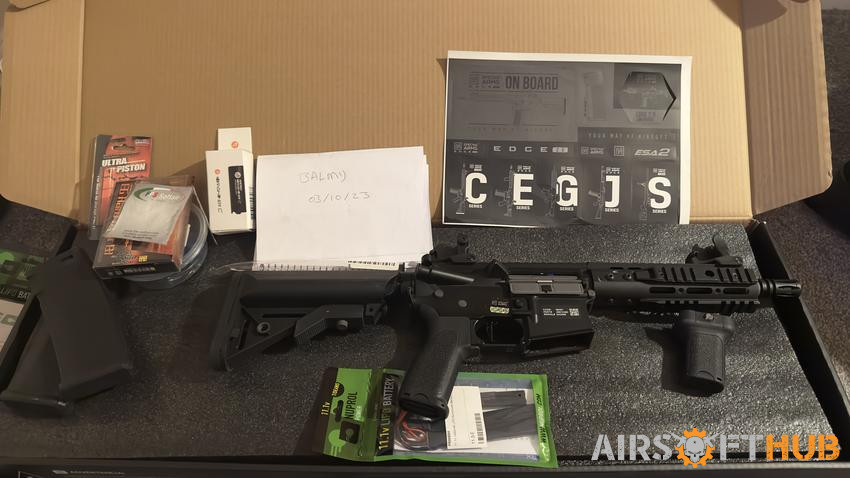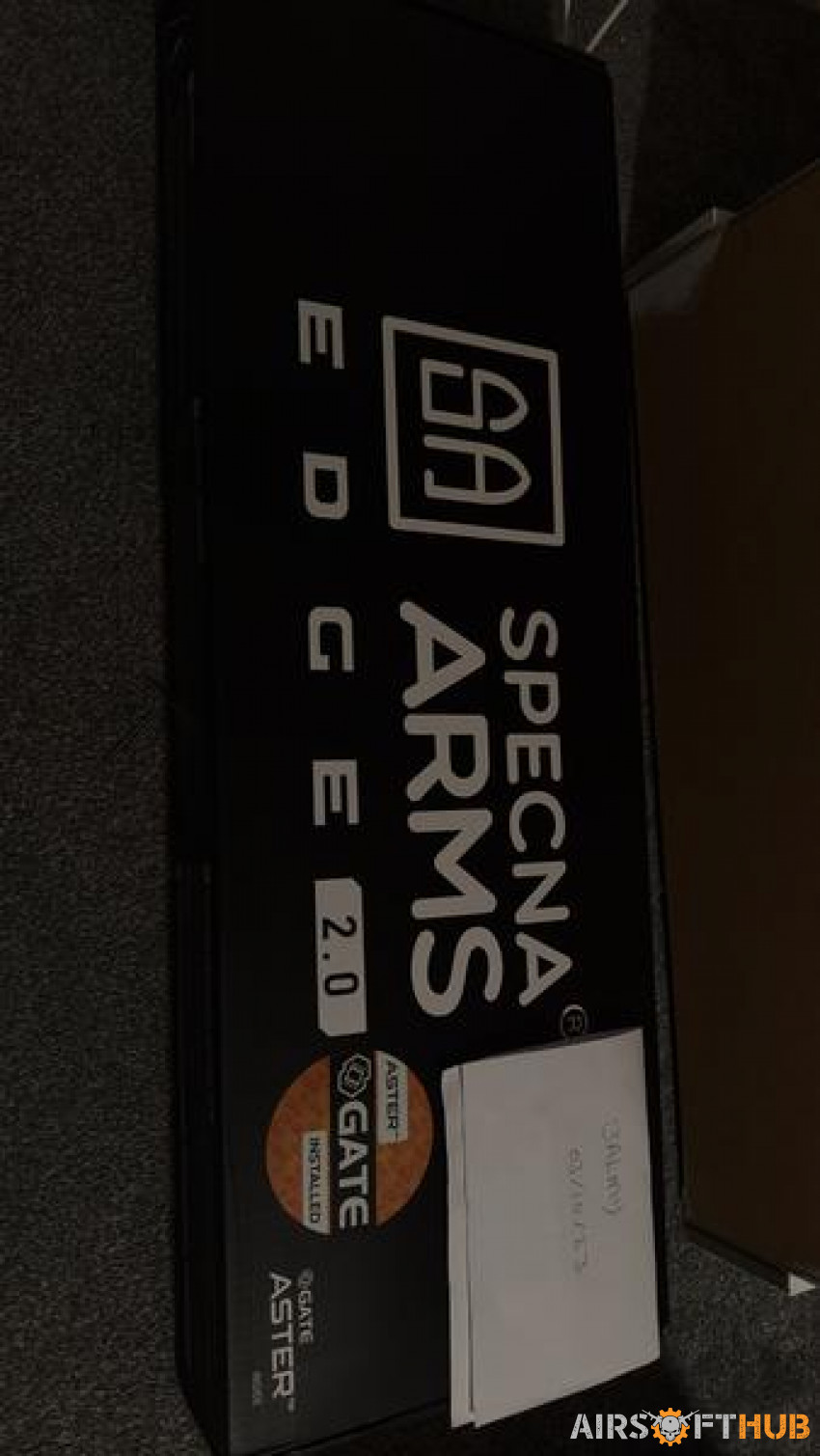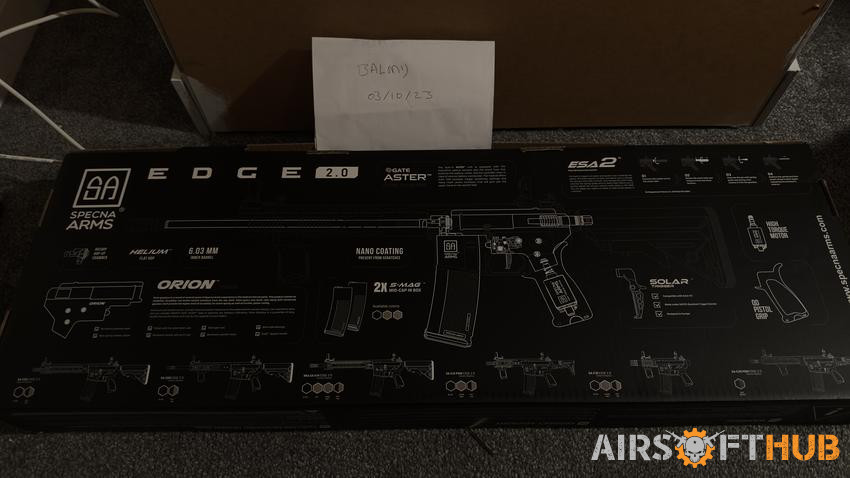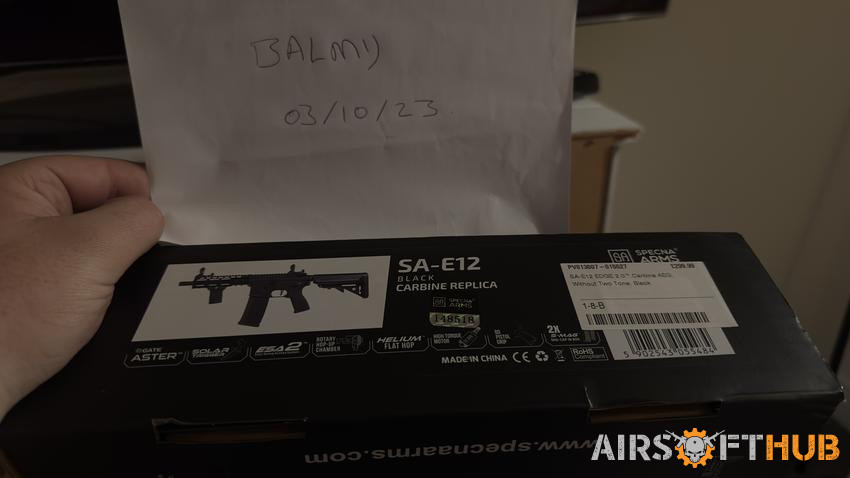 ---
Item Description
Specna Arms E-12 EDGE 2.0. Only 1 month old selling due to change of mind.
Prommy 13:1 gears
Upgraded to bushings
Upgraded FPS Softair piston head, Full Cylinder and Cylinder Head.
Gate Aster as standard but upgraded to the Advanced Version to configure the trigger and fire modes!
Can come with 11.1v 1450MAH BATTERY aswell as an ace tech Brighter C tracer unit at additional cost.
Only shot around 6000 BBs as of 30/09/23.
2 specna 125 mid cap Mags.
Comes with all original Parts, apart from cylinder.
£275 OVNO
Upgrades cost me around £150 in total.

Feel free to text if interested on 07986968555

Ideally collection only, can deliver for extra.

Standard Spec Below

GATE ASTER™ MOSFET Inside
AR Platform Replica
Compact Length AR
Electric Powered Airsoft Gun
Incredible Quality & Price Point
Unmatched in Value for Money
Rock River Arms Licensed Trademarks
Polarity Inversion Protection
Optical Sensor for Fine Trigger Control
250 Trigger Sensitivity Settings
Solar™ Electronic Trigger
Extreme Trigger Response
Phone/PC Control w/ USB Link (available separately)
RGB LED Diode Diagnostic for Programming
Aluminium, Steel, Zinc & Nylon Fiber
Nanocoating Finish for Protection
Hologram Authenticated Replica
Unique Serial Number for Identification
14mm CCW Threaded Outer Barrel
Six Position Sliding Crane Stock
20mm Railed Receiver for Sights
20mm Railed Handguard
20mm Foregrip Included
Adjustable Ironsights
Windage & Elevation Adjustment
Modern Polymer Pistol Grip
Quick Access Motor Compartment
Steel Ambidextrous Sling Plate
Great For Left & Right Handed Players
Rear Wired / Version 2 Gearbox
Deans Connector (w/ Mini Tamiya Converter)
QD Sling Sockets on Crane Stock
6.03mm Precision Inner Barrel
Rotary HOP Unit
Helium™ Flat HOP Bucking
Upgrade ORION Gearbox
Updated ESA2™ Quick Change Spring System
Buffer Tube Access to Main Spring
Change Main Spring in Seconds
2 x 125rnd Mid Cap Magazines
Lightweight Polymer Piston
Full Steel Rack on Piston
Double-Sealed Piston Head w/ Bearings
Air-Sealed Nozzle
Spring Guide w/ Bearings
Deans to Mini Tamiya Lead Included
Category: Assault Rifles
Location: Calderdale and Kirklees
Condition: Used
FPS: 330*
* All FPS figures are approximate as temperature, gas, manufacturing changes can all affect the FPS.