Message has successfully been sent.
Item has been reported. Our moderators will review it ASAP.
This item has been sold.
Sorry this item has been sold and is no longer available. Don't worry, we have plenty other used airsoft items on the marketplace to chose from!
£630.00

+ £20.00pp
HPA MCX Pa - Polarstar Kythera
Fully upgraded HPA MCX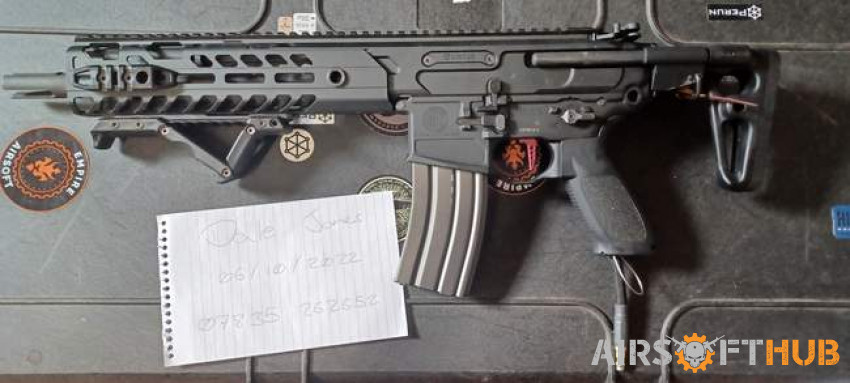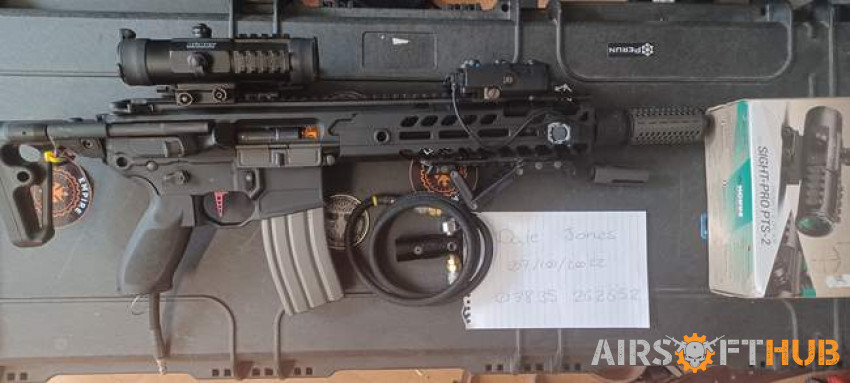 ---
Item Description
Selling my HPA Sig Virtus ProForce MCX in a package - sale is to fund a HPA 416 build. Some cosmetic damage on the stock plate due to sling clip grinding and some small wear and tear on the front of the main picatinny due to PEQ. Hops 0.32s like a dream, recently maintained the engine with a degrease, clean down and relube for orings and moving mechanical parts.

Specs:

Polarstar Kythera fully tuned to 1.1j @ ~80psi, 5fps variance on chrono (tested on 0.28s on 06/10/22)
Amped Kythera IGL
Strike Systems HPA blade trigger - red
Maxx ME Pro hop unit
Stalker panthera aluminium nub
Maple leaf MR Hop 60° (used for 1 game)
Prometheus MCX inner barrel

Included:
MCX 120r midcap magazine
ASG Hera Arms multiposition angled foregrip
Konus SightPro 3x prismatic scope
Acetech Predator MK2 tracer suppressor
WADSN PEQ-15 (torch, IR & red lasers)
WADSN 2.5mm hot button
Amped 42" line
Wolverine Storm regulator

Asking £650 posted or £630 collected o.n.o (no stupid lowball offers or swaps)
Text or WhatsApp 07835262652
Category: Assault Rifles
Location: Hertfordshire CC
Condition: Used
FPS: 346*
* All FPS figures are approximate as temperature, gas, manufacturing changes can all affect the FPS.